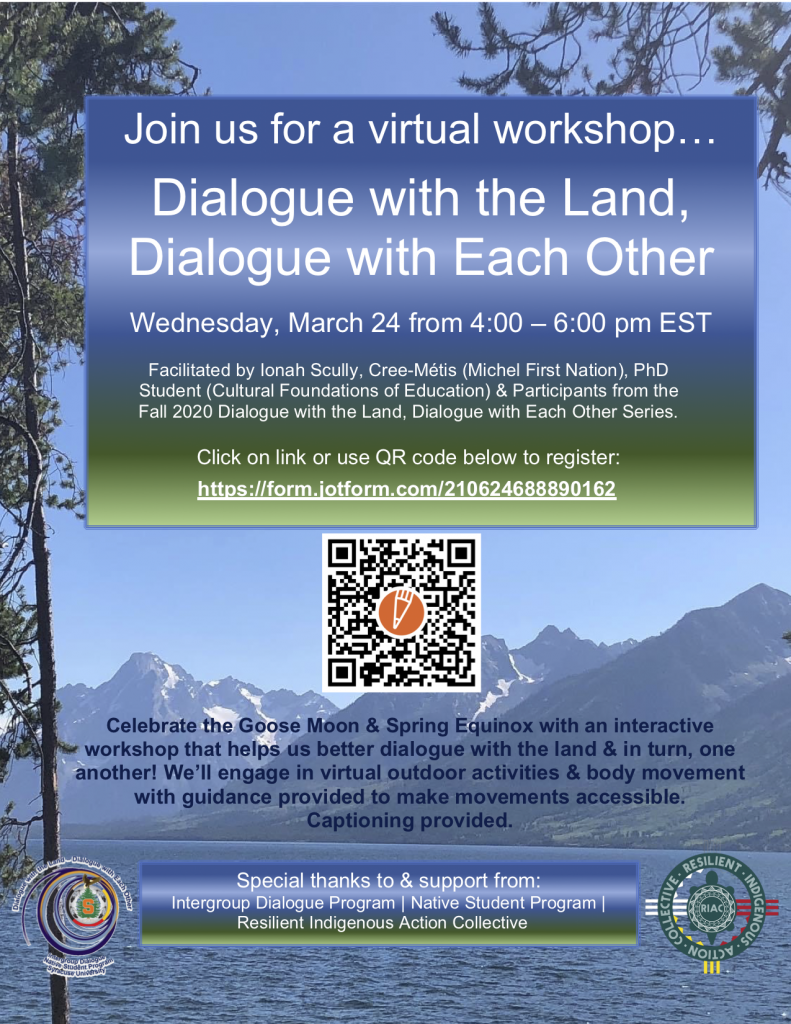 Tan'si (greetings) –
You are invited to participate in an interactive Dialogue with the Land, Dialogue with Each Other workshop facilitated by Ionah Scully (Cree-Métis, Michel First Nation), PhD Student – Cultural Foundations of Education, Syracuse University and participants of the 2020 Dialogue with the Land, Dialogue with Each other series.
This workshop is designed as a healing, restorative space for us to begin to engage in activities that help us reflect more deeply on our relationships with the land (including waters, sky, etc.) and in turn how those relationships impact or reflect our relationships with one another as human beings. Unlike some other traditional Zoom workshops, we will also engage in virtual land-based activities as well as dance/movement activities with accessibility options provided. We hope to see you there to celebrate the Goose Moon and the Spring Equinox!
When: Wednesday, March 24 from 4:00 – 6:00 pm EST.
Where: Zoom link sent to follow registration.
Captioning will be provided through Zoom.
The first ten (10) people to register and attend the workshop will be gifted a Contigo water bottle and a decal with the Dialogue with the Land logo on it for pick up at the Intergroup Dialogue/Native Student Program House at 113 Euclid Avenue in Syracuse. You can arrange for pickup on the registration form linked below. Buttons with the logo are also available for pickup at the same location for all registrants.
To register, please click on this link: (register here) 
We thank the Intergroup Dialogue Program, the Native Student Program, and the Resilient Indigenous Action Collective for their sponsorship of this event.
We look forward to dialoguing with you and the land together and you may email mescully@syr.edu with any questions.