Welcome SUCOL Student Leaders to Transformative Dialogue!
Syracuse University College of Law student leaders are invited to Transformative Dialogue, a 5-week co-curricular dialogue developed in partnership with the Intergroup Dialogue Program. This intergroup dialogue brings together a committed group of second and third year Law students, every Friday in October, for two hours, to share and explore: lived experiences of social identities, socialization, intersectionality, power and privilege, systemic racism, critical issues in our current educational and national landscape/climate, and collective actions.
This Transformative Dialogue will be co-facilitated by Professor Suzette Melendez, faculty director of inclusion initiatives at the Syracuse University College of Law, and Intergroup Dialogue Program facilitator and teaching assistant Easton Davis, a doctoral student in the department of Cultural Foundations of Education at the School of Education. We are excited to partner together on this important initiative, with these dynamic students, at this urgent time for recognizing and naming systemic inequities while building strong and constructive community for change.
Questions?
Feel free to reach out to us: Easton Davis (edavis13@syr.edu) and Gretchen Lopez (gelopez@syr.edu)
---
New Co-Curricular Dialogue offered Fall 2020 in partnership with the Native Student Program
Dialogue with the Land, Dialogue with Each Other
BIPOC students and BIPOC community members, we invite you to join the newly offered dialogue – Dialogue with the Land, Dialogue with Each Other, starting September 1 and co-facilitated by Ionah Scully. This dialogue will explore the impact of colonialism, race, gender, and the great outdoors with the goal of thinking through how our relationships with land can help us think through our relationships with each other, and providing healing and reprieve from being in community under colonialism. We will ask questions about how land and constructions of land help us think about how we think of how other bodies are constructed, especially Indigenous and Black bodies with dis/abilities; who are also queer, non-binary, and trans; who are also cash poor/working-class and/or incarcerated; who are undocumented; and those who identify as women among others.
Dialogue participants will be given activities to engage with on the land in between dialogue sessions, and the group will start out with a complimentary backpack to support exploring the outdoors in varied ways!
Please reach out to Ionah Scully (Cree-Métis, Michel First Nation), PhD Student, via email to register: mescully@syr.edu
Kinanâskomitin (thank you)!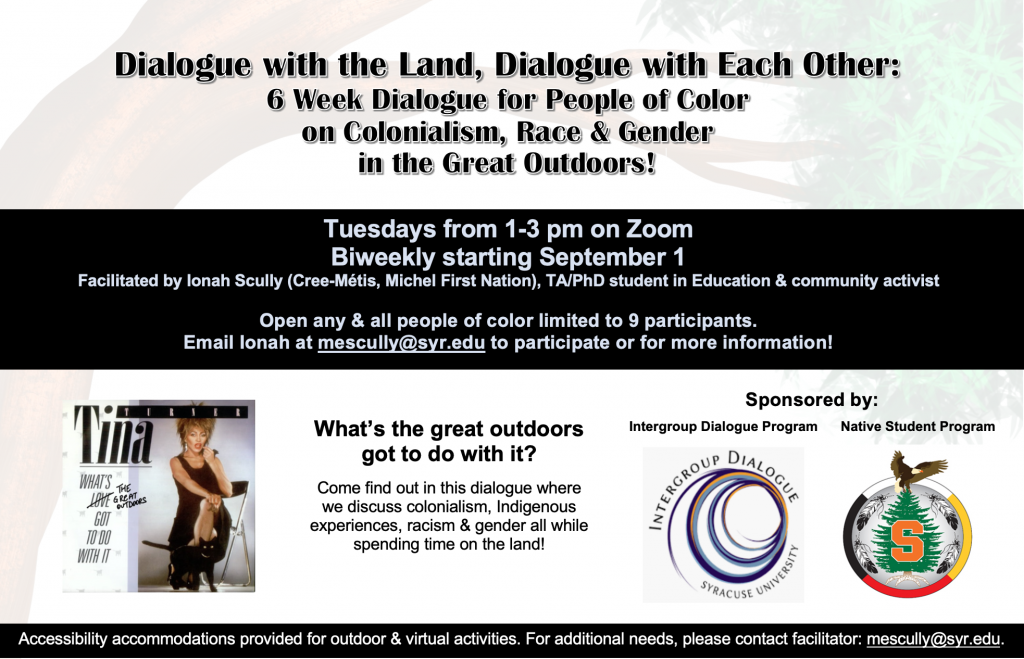 Details
When: Tuesdays (biweekly/every other week) 1-3 pm Sept. 1 – Nov. 17
Where: Zoom + additional activity to take place outdoors, but will occur solo in between dialogue sessions (accommodations for outdoor activities offered).

Image Description:
Flyer with black lettering depicting the dialogue details as noted above. Black banners in the middle and bottom of the flyer. Also pictured is the IGD logo, a blue swirl, and the Native Student Program logo, picturing the Tree of Peace with an eagle on top and the SU "S" in an orange block text in the middle. The tree is centered in the medicine wheel colors (white, yellow, red, black) circling the image.
---
Campus Partnerships
The Intergroup Dialogue Program is associated with the interdisciplinary academic department of Department of Cultural Foundations of Education, located in the School of Education. The project has received funding and support through the Chancellor's Initiative Fund, the Office of Academic Affairs and the Division of Student Affairs. Our program is strengthened through cross-university collaboration including:
Student Leadership Institute
---
Community Partnerships
The Intergroup Dialogue Program has also collaborated with local high school teachers, students, and schools on within-school and across-school dialogue-based initiatives including:
"Raising Our Voices," a cross-school institute on the university campus
Spotlighting Justice, a participatory youth collaborative with tenth grade students
Lit Arts, an after-school program centering art-based social justice education and dialogue to support youth public engagement.