Engaged BIPOC Scholar-Practitioner Program
The School of Education offers a program for a yearly cohort of BIPOC graduate students, at the doctoral and masters levels, to create community, build and sustain support, and inform institutional change. The program, started in 2021, has been funded (co-sponsored) through the SOE Dean's Office, the Intergroup Dialogue Program, the Graduate School, the Office of Diversity and Inclusion, and Hendricks Chapel.
For more information, visit the Engaged BIPOC Scholars webpage or contact: engagedBIPOC@syr.edu
---
CNY Educators of Color Dialogue – partnership between SOE Study Council and Intergroup Dialogue Program
SU News recently featured the CNY Educators of Color Dialogue facilitated by Prof. Courtney Mauldin and CFE doctoral student and IGD facilitator Easton Davis. For more, visit the School of Education's News and Events Page 
---
Welcome SUCOL Student Leaders to Transformative Dialogue!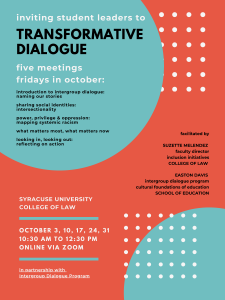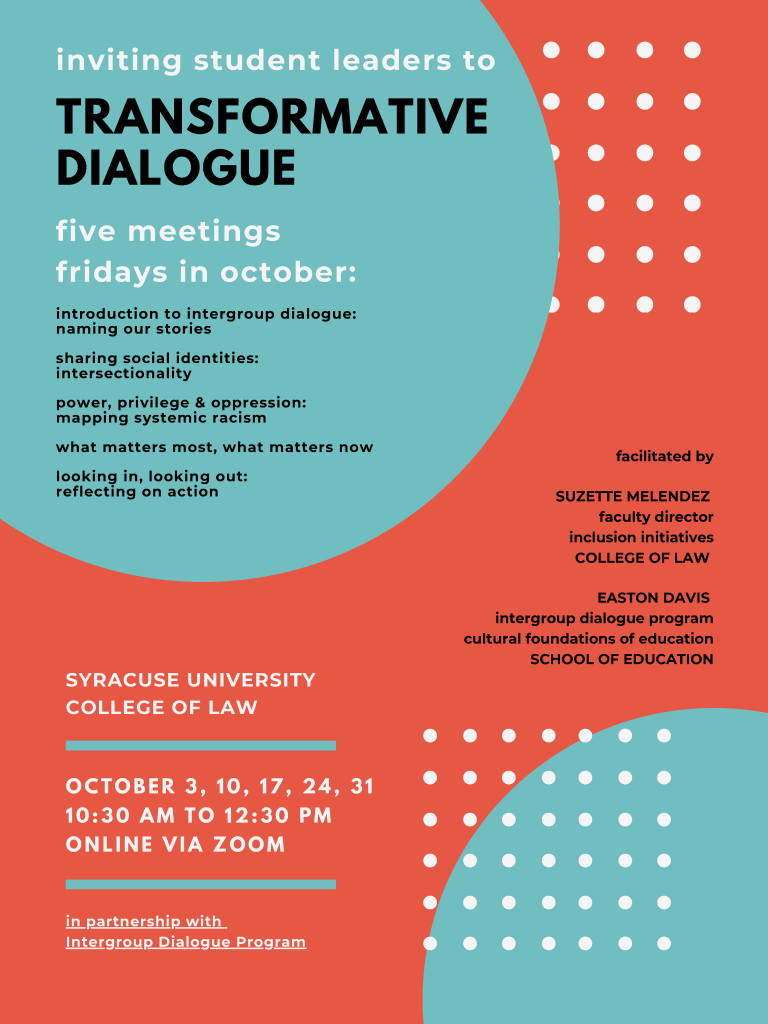 Syracuse University College of Law student leaders are invited to Transformative Dialogue, a 5-week co-curricular dialogue developed in partnership with the Intergroup Dialogue Program. This intergroup dialogue brings together a committed group of second and third year Law students, every Friday in October, for two hours, to share and explore: lived experiences of social identities, socialization, intersectionality, power and privilege, systemic racism, critical issues in our current educational and national landscape/climate, and collective actions.
This Transformative Dialogue will be co-facilitated by Professor Suzette Melendez, faculty director of inclusion initiatives at the Syracuse University College of Law, and Intergroup Dialogue Program facilitator and teaching assistant Easton Davis, a doctoral student in the department of Cultural Foundations of Education at the School of Education. We are excited to partner together on this important initiative, with these dynamic students, at this urgent time for recognizing and naming systemic inequities while building strong and constructive community for change.
Questions?
Feel free to reach out to us: Easton Davis (edavis13@syr.edu) and Gretchen Lopez (gelopez@syr.edu)
---
Dialogue with the Land, Dialogue with Each Other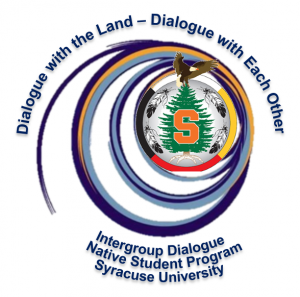 This Co-Curricular Dialogue, in partnership with the Native Student Program, brings together Black, Indigenous and Students of Color (BIPOC) with BIPOC community members to reflect on the importance of land/other-than-human beings as partners in the practice of dialogue and building relationships. In this space, participants ask questions about how understandings of and relations to bodies of lands and waters can often reflect colonial constructs of bodies of humans in order to imagine justice-oriented futures, cultivate communities of care, and find healing reprieve in the land. Drawing on Indigenous epistemology and pedagogy, Indigenous land pedagogy, and Intergroup Dialogue research and practice, dialogue sessions are facilitated by Ionah Scully (Cree-Metis, Michel First Nation), PhD Candidate, who brings in accessible, land-based activity and journaling prompts for participants to engage in between each session. Scully's work was awarded the New York Public Humanities Grant (2021), which has expanded this dialogue to include more community-based journaling sessions in continued partnership with both the Intergroup Dialogue and the Native Student Programs.
For more, please reach out to Ionah M. Elaine Scully, Intergroup Dialogue Facilitator and PhD Candidate in Cultural Foundations of Education at: mescully@syr.edu
---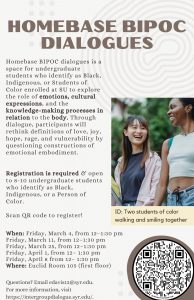 Homebase BIPOC Dialogues
Co-facilitated by Easton Davis, Ph.D. Student – Cultural Foundations of Education, and Bushra Naqi – Public Relations major in S.I. Newhouse School of Public Communications (2023), this new co-curricular initiative is designed as a healing, restorative space for students of color to explore emotions, cultural expressions, and knowledge-making processes in relation to the body. This is a five week, co-curricular series developed in partnership . During the series, students engage in grounding techniques and art-based activities. Open to up to 12 participants who identify as Black, Indigenous, and/or People of color, students are invited to rethink definitions of rage, love, joy, hope, and vulnerability.
Email Easton Davis with any questions: edavis13@syr.edu
---
CNY Teachers of Color Dialogues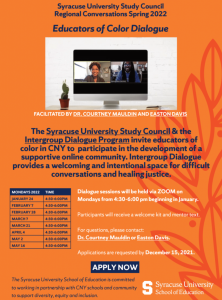 The Syracuse University Study Council and the Intergroup Dialogue Program partner to offer educators of color in Central New York an opportunity to participate in the development of a supportive online community facilitated by Dr. Courtney Mauldin, Assistant Professor of Educational Leadership in the Teaching and Leadership, and Easton Davis, PhD Student – Cultural Foundations of Education. The series is an intentional healing space to welcome educators together in a space wherein participants can engage in difficult conversations and practice healing justice.
Participants receive a welcome kit and mentor text on behalf of the Syracuse University Study Council and Intergroup Dialogue Programs.
For more information, please see the News and Events Page.
---
Campus Partnerships
The Intergroup Dialogue Program is associated with the interdisciplinary academic department of Department of Cultural Foundations of Education, located in the School of Education. The project has received funding and support through the Chancellor's Initiative Fund, the Office of Academic Affairs and the Division of Student Affairs. Our program is strengthened through cross-university collaboration including:
Student Leadership Institute
---
Community Partnerships
The Intergroup Dialogue Program has also collaborated with local high school teachers, students, and schools on within-school and across-school dialogue-based initiatives including:
"Raising Our Voices," a cross-school institute on the university campus
Spotlighting Justice, a participatory youth collaborative with tenth grade students
Lit Arts, an after-school program centering art-based social justice education and dialogue to support youth public engagement.