Announcing the CNY Educators of Color Dialogue for 2023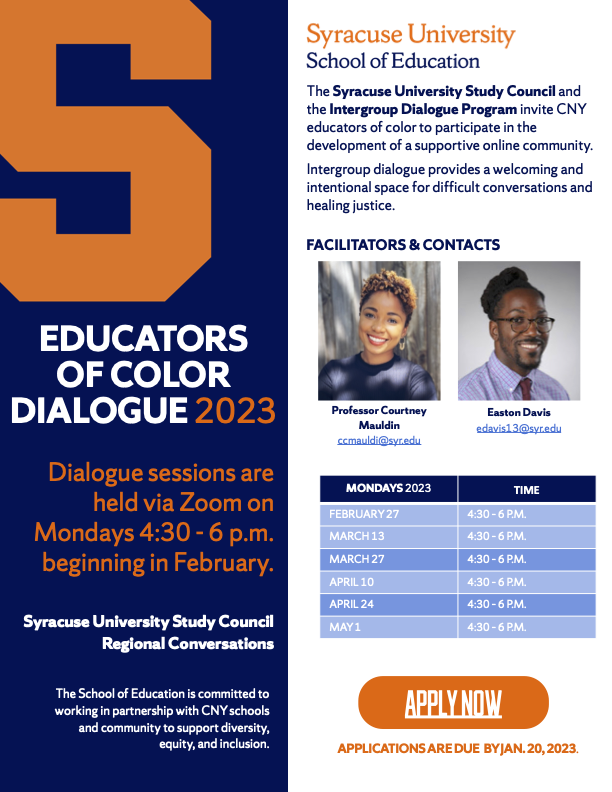 After a successful and meaningful pilot of a dynamic dialogue bringing together regional educators of color, based in local school districts, the Syracuse University Study Council and the Intergroup Dialogue Program are offering a second Educators of Color Dialogue to take place on Mondays from February 27 through Monday, May 1, 2023.
Six sessions will take place, from 4:30 to 6 pm online, on the following dates: 2/27, 3/13, 3/27, 4/10, 4/24, 5/1
These sessions will be facilitated again by the team of Professor Courtney Mauldin and Easton Davis, from the School of Education and Intergroup Dialogue Program. Interested educators may apply to participate in the Educators of Color Dialogue through this link. Applications are due by January 20, 2023.
For further information or with any questions, please contact the facilitators, Dr. Courtney Mauldin (ccmauldi@syr.edu) or Easton Davis (edavis13@syr.edu).
We are excited about this collaborative work with local educators!
In keeping with the Syracuse University School of Education's mission and vision, we are committed to working in partnership with CNY schools and community to support diversity, equity, and inclusion and to build transformative experiences for educators and students.