You are invited to participate in a co-curricular five-week dialogue series, Homebase BIPOC Dialogues, co-facilitated by Easton Davis, Ph.D. Student – Cultural Foundations of Education, and Bushra Naqi – Public Relations major in S.I. Newhouse School of Public Communications (2023). This new co-curricular initiative is designed as a healing, restorative space for students of color to explore emotions, cultural expressions, and knowledge-making processes in relation to the body. Each week we will engage in some grounding techniques and art-based activities. Through dialogue, we will rethink our definitions of rage, love, joy, hope, and vulnerability. 
After completing the five-week dialogue, session participants will receive a complimentary gift for the Salt City Market. We hope to see you soon!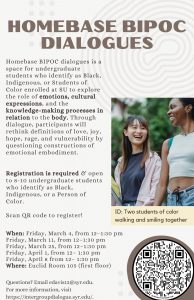 When:
Friday,  March 4, from 12:00 – 1:30 pm
Friday,  March 11, from 12:00 – 1:30 pm
Friday,  March 25, from 12:00 – 1:30 pm
Friday,  April 1, from 12:00 – 1:30 pm
Friday,  April 8, from 12:00 – 1:30 pm
Where: 113 Euclid Room 105, The Native Student Program & Intergroup Dialogue Program House 
Registration is open to all undergraduate students across Syracuse University who identify as Black, Indigenous, or People of Color, however, priority is given to students who register by February 28 and reside in one of MLLCs (Multicultural Living Learning Communities). Enrollment is limited to 12 participants, and registration is required.
Email with any questions Easton Davis: edavis13@syr.edu