Our Students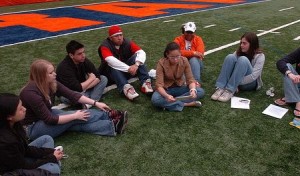 One way to learn more about our students, our program's academic courses, and more broadly education through intergroup dialogue, is through students' own words, work, and related achievements and engagement – their scholarship in action.
Examples of Intergroup Collaboration Projects (ICPs)
In the intergroup dialogue courses, students work on teams to plan and implement projects that develop from their learning in the course. These projects engage their peers, university community, and/or greater Syracuse community. Some of these students continue with these projects beyond the classroom or bring their learning to collective action.
Spring 2011 section of SOC/WGS 230 – Intergroup Dialogue on Sexual Orientation - co-facilitated by Carolyn Salter & Lauren Hannahs:
"Think before you speak"
by Jaime Bellemare, Olivia Cheng, Jonathan Gregalis, Jessica Laurello, & Paris Peckerman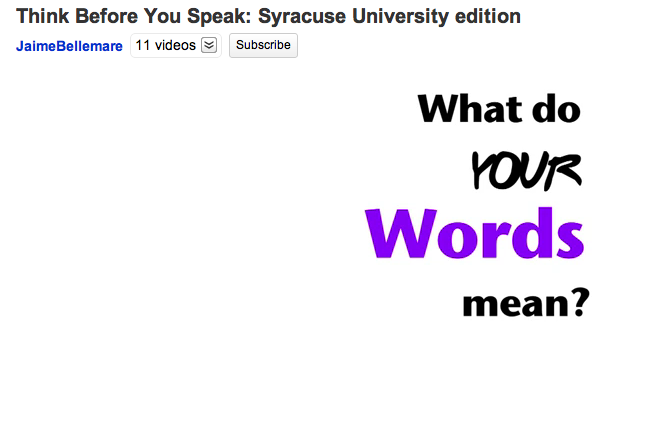 "Respect love"
by Micaela Scully, Elena (Elle) Chwat, Federico Agreda, and Lindsay Fuller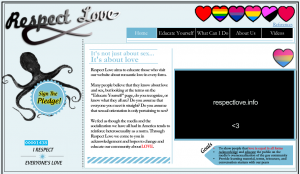 Campus Leaders, Change Agents and Allies
Former Intergroup Dialogue students are also visible as student leaders and change agents and allies on campus – educating others about important social issues in diverse, dynamic, and notable ways. Great examples include:
Another student shared her experience of learning through dialogue in an article published in The Student Voice: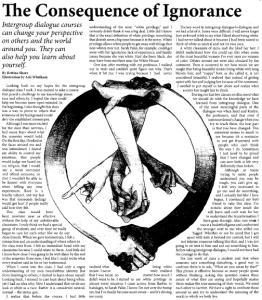 More Student Voices
For more student perspectives and reflections on learning through dialogue, watch the video from Fall 2009 of former intergroup dialogue students.
In earlier program interviews following the courses, students also shared these reflections on the significance of dialogue education:
"I don't know of any twelve week span where I've learned so much about myself or any other group of individuals… It's learning and practicing and transforming your dialogue skills, I've been using them with friends and family."
"Through this class, I can apply what I've learned to everyday life. I'm now more aware of the lack of LGBT membership in Greek Life. I'm leaving this class with wanting to reverse the student racial segregation on this campus. I've never felt that I've had the power to make a difference. Being in an environment where everyone wanted to make a difference was really inspiring."
"The student testimonials were some of the most spiritual experiences that I've ever experienced. It's no longer about statistics, you have a face and person you get to know inside and out and it makes everything so much more real."