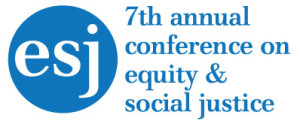 The Intergroup Dialogue Program is proud to sponsor the 7th Annual Conference on Equity and Social Justice. The conference theme is Social Justice Education Out of Bounds: New Frameworks and Alliances and includes breakout sessions from IGD facilitators, from SOE faculty and graduate students as well as groups from The College of Saint Rose, SUNY Cortland, University of Rochester, the Syracuse community, and more.
Peter McLaren, renowned scholar and activist, and Brian Jones, teacher, actor, and activists, will be providing keynote addresses.
The registration fee for students is $25 and includes breakfast, lunch, and an evening reception. More information and the full schedule can be found at http://esj.syr.edu.
And, of course, don't forget to check out facilitators Chase Catalano, Mary Cannito-Coville, Meredith Madden and Wendy Nastasi during their research panel presentation, Crossing Boundaries: Dialogic Inquiry Between Classroom-Community Locations, at 9:45 am.