Dialogue Opportunities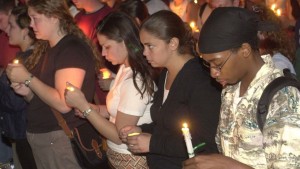 In addition to the courses and events offered through the Intergroup Dialogue Program, Syracuse University and the surrounding community provide other opportunities for engagement and education through dialogue – including the examples listed below.
Conversations about Race and Ethnicity (CARE)
CARE is a six-week, co-curricular dialogue program based in the SU residence halls. The program is organized through the Office of Multicultural Affairs in partnership with Residence Life and Syracuse's Community Wide Dialogue to End Racism. Small groups of students share personal experiences focusing on race and ethnicity; and selected readings and activities enhance students' understanding of these issues in broader society. To apply to participate in a CARE dialogue, visit the program site through the Office of Multicultural Affair's website.
Community Wide Dialogue to End Racism (CWD)
Community Wide Dialogue (CWD) to End Racism is offered through Syracuse's InterFaith Works of Central New York. CWD is one of the longest-running dialogue programs in the United States. In addition to CWD's website, you may learn more about the program through a feature article at Everyday Democracy (formerly Study Circles) website:
Interfaith Student Council and Community Service Campus Challenge

Syracuse University's
Interfaith Student Council
brings together "students who are deeply committed to dialogue across difference and who seek to make a positive difference in the world through collaborative community projects." To learn more, visit the Hendricks Chapel website, and the linked White House initiative, the President's Interfaith and Community Service
Campus Challenge
.