Dialogue in Action: New Courses Offered through the Intergroup Dialogue Program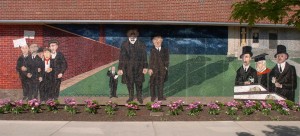 This Spring, Intergroup Dialogue offered a new course, "Dialogue in Action: Class Matters," through Cultural Foundations of Education (CFE) and the School of Education (SOE). The course, CFE/EDU 300, examines issues of social class with an intersectional lens and focuses on institutions of education. Students have the opportunity to learn more about dialogic communication and to put it to use in the classroom and community.
Students have already shared positive, important learning taking place through this new dialogue course. As examples, one current student describes the educational experience this way:
"The way that I was able to gain knowledge most importantly was by talking about first-hand experiences with social class within our CFE 300 classroom.  Within our class, I would say we had a very diverse group of students, which we were extremely fortunate to have.  Being able to hear each other elaborate on our stories, share our feelings about social class, and then have the chance to ask one another questions and dialogue is more knowledge than you could ever gain from a reading alone."
A fellow student from the same course further shared:
"I feel very connected to social class justice because I recognize that my CFE 300 classmates around me are all active allies.  I do not have the same experiences they do and we all come from varying backgrounds, but we all have very similar interests and one of the biggest being our attention to bettering social class relations."
The undergraduate students in the course are collaborating with Nottingham High School's Spotlighting Justice  group as the Scholarship in Action component of their learning.
Meredith Madden, the facilitator/instructor of "Dialogue in Action," had this to say about her experience this semester:
"The most appealing piece related to my involvement in CFE 300 has been bearing witness to the journey of 12 undergraduates as they learned dialogue skills, engaged in critical dialogue on social class, formed a community within the classroom, and put dialogue into action through collaborative work with Nottingham's Social Justice Club. As a facilitator, the fact that I could participate in this type of learning experience with these 12 students provided me with a shift in my pedagogy that has transformed the way I will engage with all students."
This course will be offered again during Summer Session I as CFE 300/600 - Dialogue in Action: Class Matters. This provides an opportunity for master's level students, as well as undergraduates, to take an intergroup dialogue program course. The summer course will also focus on an intersectional analysis of social class, with an emphasis on the strengths and challenges of collaboration.
This coming Fall semester, the Intergroup Dialogue Program is offering a second section of CFE/EDU 300 – Dialogue in Action: Faith, Conflict and Community. This new section has been developed in partnership with Hendricks Chapel at Syracuse University. For more information on these courses, visit the course page on the Intergroup Dialogue website.