Academic Courses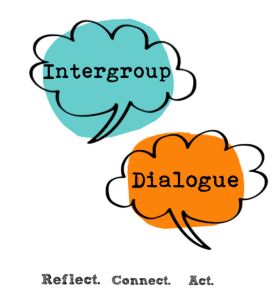 The Intergroup Dialogue Program offers a variety of academic courses including SOC/WGS 230 (CFE 200) course, Intergroup Dialogue, There are several sections of this course offered each semester focused on different social issues including race and ethnicity, gender, sexual orientation, women's issues, and faith based identities.  Additional sections of the SOC/WGS 230 & CFE 200 course will be developed for future semesters.
In addition to this course, the Intergroup Dialogue Program now offers an upper-division course through the School of Education that is open to enrollment to students in any Syracuse University college. This upper-division course is responsive to strong student interest in more opportunities to engage and extend dialogue. The course, Dialogue in Action – CFE 300, was offered for the first time in Spring 2012 and focused on the intersectional nature of social class, particularly as it relates to education and educational opportunity. In addition to "Dialogue in Action: Class Matters," the program offered "Dialogue in Action: Many Faiths, One Humanity" in Spring 2013 in partnership with Hendricks Chapel and SU Study Abroad.  Additional sections and areas of focus for this course are also anticipated.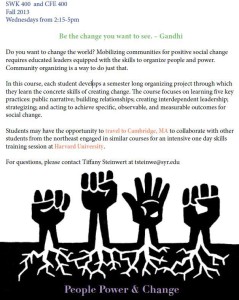 For Fall 2013, another exciting new course on community organizing (SWK/CFE 400) is linked to the intergroup dialogue undergraduate course offerings. In partnership with Hendricks Chapel and Social Work, this Cultural Foundations of Education upper level section covers "Community Organizing: People, Power, Change."
In addition, the faculty director of the Intergroup Dialogue Program, Gretchen Lopez, PhD, teaches a graduate-level course, Inequality and Intergroup Relations, CFE 640, that addresses the critical pedagogy of intergroup dialogue courses, theory and praxis. This course is typically offered each Spring and it serves as one step in the preparation of graduate student (Masters and Doctoral) co-facilitators for the program's courses, and co-curricular and community offerings.
APPLY TODAY! We are currently accepting applications for Fall 2013 SOC/WGS 230 & CFE 200 courses. Check the home page for the direct link to our online application.